"Only Ryanair planes had fuel problems" : AENA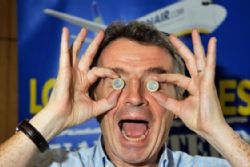 The Spanish state-controlled airport operator AENA on Monday rejected claims by Ryanair boss Michael O'Leary that 2 other airlines, LAN Chile and EasyJet, were also forced to make emergency landings in Valencia on July 26 due to adverse weather conditions at Madrid airport, when three of the Irish low-cost carrier's planes had to put in mayday calls to land in Valencia due to dwindling fuel.
AENA said the LAN Chile plane did make an emergency landing at Valencia but because of technical problems, not a lack of fuel. EasyJet said that 2 planes were redirected to Valencia from Madrid on the same day because of weather conditions. "The only thing for sure is that 3 Ryanair planes had problems," AENA sources said.
O'Leary acknowledged that Ryanair publishes monthly figures on pilots' use of fuel as part of its cost-containment drive, but denied the planes had run short. "It's the silly season and the Olympics are over so let's talk and write a lot of shite about Ryanair planes running out of fuel," O'Leary told the Irish Independent on Sunday.