Spain tourism up 3.3 pct in July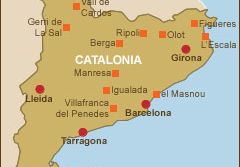 Spain has welcomed a total of 32.8 million foreign visitors so far this year, representing an increase of 3.35% on the same period in 2011.
The report issued earlier today by the Ministry for Industry, Energy and Tourism also revealled how the majority of foreign tourists came from Britain, followed by Germany and France although the majority of foreign travellers in the month of July came from the USA.
The region of Catalonia attracted most foreign tourists, up 11.5% from 2011, with 8.4 million visitors from January to July totalling 25.6% of all tourists from abroad.
In July 7.7 million people chose Spain as the destination for their holidays, up 4.4% from 2011. Tourism has grown from May to July compared to last year after a negative month in April when it registered a 1.7% downturn.