Spanish ministers argue over austerity measures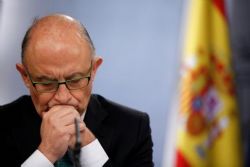 Two Spanish government ministers traded public barbs on Tuesday, clashing over implementation of tough austerity measures demanded by the European Union as Spain's borrowing costs soar, pushing it toward needing an international bailout.
Treasury Minister Cristobal Montoro said in an interview that he would veto new taxes on energy firms proposed by Industry Minister Jose Manuel Soria, saying that addressing the budget deficit was a bigger priority than energy sector reform.
"Nothing is going before the cabinet on tax policy that isn't born in the budget ministry," Montoro said in an interview published on Tuesday by Bloomberg. "Until I decide, this isn't going forward, whoever announces it."
Press officers at the budget ministry were not immediately available for comment.
Soria responded soon after Montoro's comments were made public, telling reporters in the Canary Islands that it was up to him to shape policies to attack an enormous deficit built up by subsidizing renewable energy companies for years.
"Any type of proposal or measure in terms of energy reforms corresponds to the industry ministry, though there are other departments that deal mostly with the economy that logically have to comment," Soria told a news conference reported by local media.
PM Mariano Rajoy recently announced a €65 billion cost-cutting package to try to reduce Spain's budget deficit to 3% of GDP by 2014.
Spain's economy is contracting, unemployment is 25% and borrowing costs are soaring, and Madrid is expected to appeal for European aid in the coming weeks or months. It has already requested up to €100 billion in aid for its struggling financial sector.
The plan put forward by Soria included raising taxes on electricity generation, whether nuclear, hydroelectric or renewable, and on consumption of natural gas.
His disagreement with Montoro has been discussed in government circles for 2 months.
Spanish utilities have for years been subsidised by the central government, creating a €24 billion tariff deficit that it now has to eliminate by the end of 2013.
A new regulatory framework for the energy sector was planned for the first half of the year but has been postponed until after the summer. Powerful lobbying against the proposed reforms by both conventional and renewable electricity generating firms has contributed to the delay.
The reforms are expected to account for more than €8 billion of the €65 billion austerity package Rajoy announced in July. A credible plan to bring the budget deficit under control will be crucial if Spain is to gain access to a ECB bond buying programme outlined by ECB head Mario Draghi at the beginning of August.