New law to seize control of Spanish banks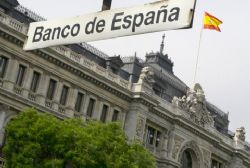 A new law expected to be approved either this week or next could see the Bank of Spain seizing control of Spanish banks even if they meet liquidity and solvency requirements a report said in El Pais today.
The "Enabling Law" forms part of a range of emergency powers which gives the government the ability to intervene if it is "foreseeable" a banking institution could fail to meet the rules in future.
The emergency powers will enable the Bank of Spain to impose strict demands on banks such as giving a bank just 10 days to restructure its finances and debts with creditors as well as being able to remove top officials from their posts within struggling entities.
However, any move by the Bank of Spain must be approved by the FROB, "Fondo de Reestructuración Ordenada Bancaria" aka Fund For Orderly Bank Restructuring, which some analysts are suggesting would delay or over complicate intervention and create yet more bureaucracy and red tape which Spain is especially famous for, more so as the FROB will be placed under the direct supervision of the Economy Ministry.
Spain recently gained approval for a €100 billion capital life line to fund it's ailing banks in the form of a European rescue fund. Whilst some emergency funds have been released, the bulk will begin to reach banks around September 2012.
The plan is that after the first round of central bank assistance the FROB would take charge of restructuring and orderly resolution of banks.
The FROB would be able to either directly inject cash, transfer debt securities from the Treasury or the European rescue fund according to El Pais.
In any event, it must be the Shareholders and creditors which first take losses before the state or any rescue funds. A move which is likely to be welcomed by the Spanish public who are feeling the pinch from harsh austerity measures imposed by the government.