Struggling Spanish media loses teeth in economic crisis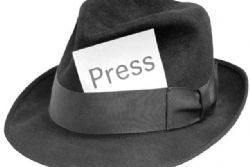 Spanish news organizations are being forced to cut staff and budgets as advertising revenues plummet, eroding the quality and range of the media at a time when the country is facing its worst economic crisis in a generation.
Media companies across southern Europe are feeling the strain as advertising spending falls in line with collapsing consumer confidence. But only Greece is expected to perform worse than Spain this year.
"For the quality of journalism, these are difficult times," said Carlos Barrera, professor of Modern Spanish Media and Politics at the University of Navarra.
Following Spain's transition to democracy in the late 1970s, dozens of newspapers and broadcasters started up.
Since 2008, 57 outlets have closed and 8,000 journalists have lost their jobs. For the rest of Spain's 40,000 journalists, their average salary has more than halved since the country's boom turned to bust 4 years ago.
Speculation is mounting that Madrid may have to take the drastic step of seeking a full international bailout to prop up its tottering economy. But even-handed newspaper coverage of such a rescue now looks remote.
"The situation, with this level of unemployment, with effectively fewer media outlets, and this level of uncertainty, means we're losing democracy," said Elsa Gonzalez, President of the Federation of Spanish Journalist Associations (FAPE).
As the centre-right government makes deep cuts to try to drag Spain out of the crisis, a narrower range of media is covering events, leaving the influential left-leaning El Pais newspaper and its sister radio station Cadena Ser as the only large media outlets likely to take a critical stance on the government.
After El Pais, the next 2 most popular generalist papers, El Mundo and ABC, tend to the right and are more sympathetic towards the increasingly unpopular People's Party.
Spain's only mainstream left-wing newspaper, Publico, cancelled its print edition earlier this year and now only operates online.
In recent months, right-leaning media have stopped using the word "cuts" and use "adjustments" instead.
But with the mainstream press recording a 12.5% fall in circulation in the first four months of the year, Spanish newspapers are struggling to make their mark.
Budgets are under pressure and editors increasingly rely on political opinion pieces, news agency copy and celebrity gossip to attract readers and stay in business. Reporters have fewer opportunities to travel to cover stories.
"Everyone's looking for a way to differentiate themselves from the competition, but at the same time, with fewer ways to do that, there's more uniformity," said Barrera.
Three of Spain's 4 free newspapers, which were popular with a commuters whose numbers are shrinking as unemployment rises, have closed, with only 1 publishing an online version.
Total advertising spending will fall by 12% in Spain this year, according to media agency ZenithOptimedia. That compares to a 10% fall in Portugal and a 5% dip in Italy, and rises of 1 and 2% in France and Germany.
According to consultancy Infoadex, overall Spanish newspaper advertising halved between 2007 and 2011 to € 967 million.
Prisa, the media group which owns El Pais as well as educational publishing and pay-TV operations, lost €61 million in the first half of the year, despite growth in Latin America. Ad sales dropped more than 10% and now make up 22% of revenues from 23.4% a year earlier.
Television advertising fell by 16% in the first 6 months of 2012, according to Infoadex, denting the profits of Spain's main broadcasters - Mediaset Espana, part of Silvio Berlusconi's media empire, and Antena 3.
"In terms of print media, you've got a bit of a perfect storm," said Harjinder Singh-Heer, managing director of media analysis firm G2Mi. "On the television side, the story may be a little bit more attractive."
Mediaset and Antena 3 operate a near duopoly with 48% audience share and so are well placed to negotiate prices with advertisers if the Spanish economy picks up, he said.
Prices for advertisements on private channels soared after the government halted ads on public channels in 2010, said Jonathan Barnard, head of forecasting at ZenithOptimedia.
If Antena 3 successfully merges with smaller rival La Sexta, the independent broadcasters would be further strengthened.
BEYOND THE BUBBLE
Spain finds itself in a more difficult situation than its neighbors because the media sector had grown too big since the 1970s. Pre-crisis it was not unusual for provincial cities to have several newspapers and TV stations.
"There was a bubble, there were hundreds of newspapers, advertising couldn't stretch to a crisis," said Bernardo Diaz, director of the journalism department at the University of Malaga.