Hours of operation at 10 airports in Spain cut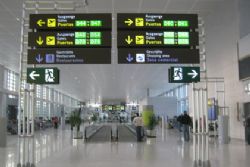 News from the Ministry of Development today confirmed that 10 of the 17 airports in the AENA network with fewer than 500'00 passengers per year are to see their operating hours cut.
The total number of working hours will be reduced from 2,002 hours per week to 725 hours.
The Airports affected by these changes are : Pamplona; ​​Burgos; Vitoria; Logroño-Agoncillo; Huesca Pyrenees; Córdoba; Sabadell and Son Bonet, together with the two heliports of Algeciras and Ceuta.
Valladolid; Leon; Badajoz; Salamanca; Albacete and Torrejón airports will be unaffected by the changes.
The total number of working man hours in each facility will be reduced by 185 hours per day, working towards the goal of reducing their collective operating losses - which currently stands at €15 Bln for these 10 airports alone - by 50% by the end of 2013.
The Minister for Public Works, Ana Pastor, has estimated that €50 million can be saved through the government's "Airports Efficiency Plan" which considers a number of factors across the whole AENA network of 49 state-owned airports.
Meanwhile the Unions remain concerned that whilst the measure may represent savings of almost €30 million, it may come at the cost of around 300 jobs.
The USO Union in particular has warned that the reduced schedules may have a significant impact on the standard of safety offered at Spain's airport, and as such has raised an official complaint with the European Agency for Air Safety State (EASA).