Murcia airport losses for 2012 less than El Altet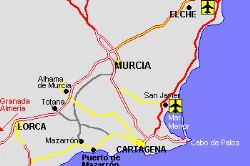 Ryanair's decision to cut flights to Alicante's El Altet airport late last year has cost the facility 135'000 passengers in the fist 7 months of 2012.
A report fom the Institute of Tourism (IET) has revealled that El Altet remains Spain's fifth busiest airport, with a total of 1'076'170 passengers flying to Alicante during the month of July alone.
However, the controversial action by Ryanair, together with a downturn in the overall economy, has seen El Altet lose up to 7% of passengers arriving on low-cost carriers, and 8.4% on main-stream carriers compared to July 2011.
Spanish airports as a whole saw the number of passengers arriving on budget flights increase by 4% in July 2012 compared to July 2011, and increase by 1.4% for the first 7 months of the year.
By the end of July El Altet had recorded slightly over 5 Million passenger arrivals, representing a loss of passenger numbers of around 7.8% - way in excess of the national average of a loss of 2.5%.
By comparison, Murcia's San Javier airport is also continuing to lose passengers.
The total number of arrivals at San Javier in July reached 165'556, taking the accumulated number for the year to date to 676'016. When compared to 2011 this puts July at 7.7% behind, but the year to date (721'840 passengers) at 6.3% behind.
The interesting thing here is that San Javier airport has a clearly explained reason for the departure in passenger numbers : The uncertainty behind the operation of the facility in the face of Corvera International Airport. Even when leaving that issue aside, the percentage decrease in passenger numbers (6.3% year to date) is considerablly less that that seen at El Altet (7.8% year to date).