Spanish request for support would not prompt downgrade : Fitch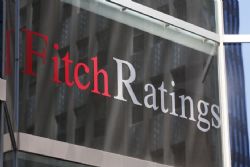 A request by the Spanish government for additional financial support from the European Financial Stability Facility/European Stability Mechanism (EFSF/ESM) in the form of purchases of Spanish sovereign debt in the primary and/or secondary market would not prompt negative rating action from Fitch Ratings.
Sovereign bond purchases by the EFSF/ESM, especially if supported by secondary market purchases by the ECB, would significantly reduce the risk of a self-fulfilling liquidity crisis and help the Spanish government retain access to affordable market financing and ease pressure on Spain's sovereign ratings. Such external support could provide Spain with the breathing space to implement its ambitious fiscal and economic reforms. The credibility of Spain's fiscal consolidation effort and structural reform programme could also be enhanced by the "policy conditional" nature of such support as Spain would have to agree a Memorandum of Understanding (MoU) with the ESM/EFSF.
However, were bond purchases by the EFSF/ESM and/or the ECB to end up as substitute for, rather than supporting access to, sources of private capital, Fitch would place Spain's sovereign ratings under review. Sole reliance on policy conditional external funding would exacerbate concerns over the implied subordination of existing bondholders by official creditors and the risk of private sector involvement if there was no prospect of regaining market access in the foreseeable future.
Fitch considers such a scenario as unlikely and its base case is that Spain will make sufficient progress towards addressing its macro-financial imbalances, including the restructuring of the banking sector, that it will retain market access, albeit with financial support from the ESM/EFSF and ECB.
Fitch today published a Special Report, Sovereign Rating Implications of External Support, Bond Purchases and Seniority that provides greater guidance on the factors that influence Fitch's case-by-case assessment of the credit and rating implications of support.
Fitch downgraded Spain to 'BBB' from 'A' in June, reflecting its re-assessment of the likely cost of bank restructuring and the fiscal and economic prospects. The rating remains on Negative Outlook.