Gov't increases benefit payments for long-term unemployed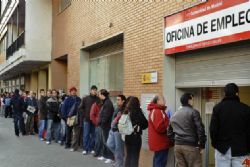 Later today the Cabinet is due to approve an increase in the payment of benefits for those without work and no longer entitled to claim unemployment benefits.
Government sources have confirmed that if they have at least 2 members of their family - other than their spouse - who are financially dependent on them they will now receive €450, up from €399.
This increase is included in a reform of the so-called 'Plan Prepara' program, which was introduced by former Socialist Prime Minister José Luis Rodríguez Zapatero. The scheme will also step up efforts to get the long-term unemployed back to work through retraining, and will be implemented using increased collaboration with the regions.
The Spanish economy has slipped back into recession for the second time in 3 years, leaving a 25% of the country's workforce out of work. According to Labor Ministry figures, official jobless claims in July amounted to 4.507 million, although only two-thirds of those out of work are entitled to unemployment benefits, which are paid out for a maximum of 2 years. The National Statistics Institute (INE) has estimated that the number of households where all members are out of work reached 1.737 million at the end of June.
It was not clear whether the government would take on board suggestions from top-ranking PP members on whether those who receive the social security benefit of €400 and who live with their parents, regardless of the latter's financial means, should continue to do so.