Ryanair investigation may benefit Castellon and Corvera airports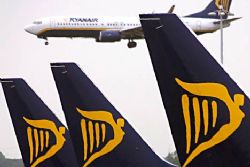 Following the Ministry of Industry's investigation into the 3 emergency landings made by Ryanair earlier this month at Valencia-Manises airport, the Vice President for the Province of Castellon has been asked to comment on the possibility of this being something that could work in the favour of the privately owned airport.
Relations were already strained between Ryanair and both Valencia, Alicante and Reus airports, aswell as the state operator, AENA, and the recent conflict at Valencia only makes matters worse.
Yesterday it was revealled how Ryanair cutting flights at Alicante El Altet airport
Vice President, José Císcar, confirmed that the decision to fine Ryanair for a breach of saftey regulations is currently with the Ministry of Industry and AENA, and that retaliatory action by Ryanair is possible "We are waiting to see what is decided," he stated.
Up until now Ryanair has been playing a 'wait and see' game with Castellon airport, but the approaching dates of operations for both Corvera and Castellon airports may mean that the state owned airports of Valencia and Alicante are in for a shock.