Further Ryanair problem sees court action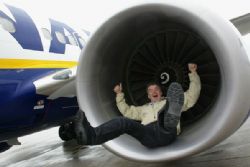 Over 100 passengers have brought a civil court case against Ryanair following a 12 hour delay on a flight between Madrid and Menorca.
The delay kept the aircraft at the Balearic airport due to 'technical problems', although no further reasons were given by the airline.
According to AENA, flight RYR3057 was due to take off at noon on Saturday, but the pilot made the decision to abort the take-off.
The passengers were subsequently taken back to the terminal building without recieving any explanation for the reasons behind the delay, or any communication on how - or more importantly when - the issue was likely to be resolved.
Tensions were raised to such an extent that the Guardia Civil were called by airport staff.
As of Sunday evening, the airline has still declined to provide an explanation as to the exact cause of the delay, or issue an apology to passengers, which has caused them to press a claim for compensation.
This is hardly likely to sit favourably with the Ministry of Industry, who are in the process of conducting an investigation into the three emergency landings by Ryanair at Valencia airport last month due to their carrying insufficient fuel. If they are found to have breached European Airline Safety regulations Ryanair 'could' see their licence to operate in Spain be suspended for up to 3 years and be hit with a fine of 4.5 Million Euros.