Spain's Rajoy hopes not to raise taxes next year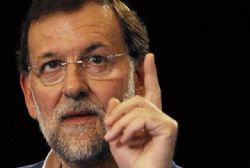 Spain will try to avoid raising taxes in next year's budget, Prime Minister Mariano Rajoy said on Thursday, following a meeting with French President Francois Hollande.
"I'm telling you now that in the next budget I will not raise either personal income tax or value-added tax. We will try to draw up a budget that allows us to meet our obligations ... I hope we don't need to take such difficult decisions", Rajoy said at a joint news conference after the bilateral meeting in Madrid.
Spain's center-right government decided to raise VAT, or value-added tax, as part of a raft of austerity measures passed this year, despite promising in its election campaign not to up the tax. The rise in VAT comes into effect on Saturday.