Fire in Malaga sees thousands evacuated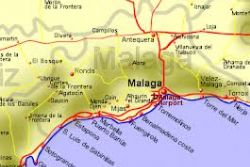 Several thousand people were evacuated when a huge wildfire raging out of control in southern Spain reached the edge of Marbella on the Costa del Sol, Spanish authorities said on Friday.
The fire broke out near the port city of Malaga late on Thursday and raced westward, fanned by strong winds and high temperatures. Two people suffered minor burns when the blaze threatened a housing estate in northern Marbella, forcing the evacuation of thousands of people to a sports centre.
Millions of tourists visit the Costa del Sol, famed for its beaches and nightlife, every year and hundreds of thousands of expatriates from northern Europe live on the coastal belt.
The fire broke out near Malaga and spread quickly west towards Marbella, fanned by strong winds and high temperatures, defying the efforts of Spanish firefighters backed by aircraft and helicopters dumping water on the flames.
"The fire is horrific, with flames 10 to 15 metres high," Angel Nozal, the mayor of Mijas, an inland town between Marbella and Malaga, told the national daily El Pais.
"This is without a doubt the worst fire we've had in Malaga," Elias Bendodo, President of Malaga Council, told Spanish national radio.
"Thousands of people have been evacuated ... Two people are definitely injured and ... lots of houses have suffered damage," he said.
Local authorities do not know how the fire started, but said they hoped to bring it under control later on Friday because the wind had dropped.
Unusually dry weather in Spain has resulted in wildfires burning thousands of hectares of land this summer, and temperatures have hit record highs in some regions.
This year has already been one of the worst on record for forest and bush fires, with thousands of people being evacuated earlier this month in the Canary Islands, while four people died in fires in the border area between France and Catalonia, in northeast Spain, in July.