Child seatbelts not worn in 54% of fatalities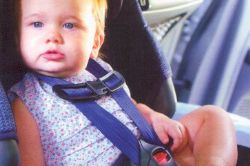 A study by the Spanish Association of Products for Children (ASEPRI) has found that a staggering 54% of all Children who died as the result of a car accident were not wearing a seat belt.
The report examined official statistics recorded by the General Directorate of Traffic (DGT) and also found that 18% of those who had worn a seat belt, had done so incorrectly.
The association warned that wearing an ill-fitting or inappropriate child seat or seat belt could represent as much of a danger as not wearing any saftey restraint at all.
A full and detailed guide on which car seats and seat harnesses you should use for your child on Spanish roads can be read by clicking on the link >> HERE << .