Euro zone yields "not sustainable" : Rajoy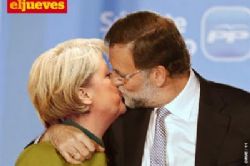 Mariano Rajoy has called for decisive action to resolve the financial crisis in the euro zone and dispel any doubts over the future of the euro.
Spain's PM in an interview with European newspapers published on Saturday night that the current situation in which some European countries financed themselves at negative rates and others paid "unsustainably high rates" had to end.
"The current situation cannot be sustained over a longer period of time," he was quoted as saying in German daily Bild. "Therefore we must solve the problem of divergent yields now."
Rajoy said measures had to be taken to dispel "with all clarity and decisiveness the doubts over the continued existence of the euro."
He praised German Chancellor Angela Merkel as someone who governed "with great soundness."
Rajoy was upbeat even as opposition from German central bank chief Jens Weidmann emerged on Friday as a potential obstacle to a planned bond-buying plan aimed at helping Spain and other peripheral euro zone countries lower their borrowing costs.
"The looming challenge is to resolve the problems of the euro's instability and to advance European integration," he told French newspaper le Journal du Dimanche. "I sense that Merkel is ready to take it on."
His comments came ahead of a scheduled visit by Merkel later this week to the Spanish capital and as a Spanish request for a European rescue package is seen as increasingly inevitable.
Rajoy did not directly address the question of additional aid, but acknowledged that Spain was "in a very complicated situation", but insisted it would "make it through."
ECB President Mario Draghi's plans to implement a new bond-buying plan - which would provide a boost to peripheral euro zone countries like Spain - have run afoul of Weidmann's reported threat to resign.
Still, Merkel's tacit support has given Draghi's scheme a major boost.