Spain bank rescue fund approves Bankia aid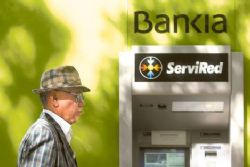 Spain's national bank rescue fund approved an immediate capital injection of €4.5 billion into ailing lender Bankia on Monday, the Fund for Orderly Bank Restructuring, or FROB, said in a statement.
"The operation will be carried out by the FROB subscribing to a capital increase," the FROB said in a statement.
The FROB added that the operation was subject to approval from the Bank of Spain and the government. The operation will restore Bankia's core capital to meet regulatory levels, the FROB said.