Illegal Immigrants flock to Spanish enclave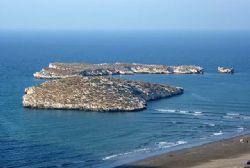 As many as 70 illegal immigrants flocked to a tiny, uninhabited Spanish island off the northern coast of Africa yesterday – creating an administrative headache for the Spanish immigration authorities.
The insignificant pile of rocks is officially titled the Isla de Tierra is part of the Alhucemas Islands archipelago. A low tide the island is barely 100 feet from the coast of Morocco and is slightly more than 4 acres in area.
The regional office for the Spanish Ministry of the Interior in the nearby enclave of Melilla reported how the island was swarmed by the illegal immigrants where it is feared they are about to stage a bid for political asylum on the mainland.