Castellon airport spend €6.5 Mln in 2012 - yet remain closed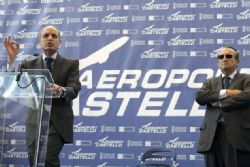 It has been revealled how Castellσn Airport spent a total of €5,092,596.22 last year on advertising and promoting an airport that is still not operational.
The figures, which were down from the €7,003,181.27 spent in 2012.
For 2012 to date operating expenses have totalled €6,484,935 - teh highest so far pro rata. Of this sum €368,865.49 has been spent on employing the 7 Employees, €5,092,596 on advertising, €918,663 on professional services, and €223,074 paid to contractors.
Of the €368,865.49 paid in cost of employing staff, €295,871 was spent on wages and €72,994 on social security contributions - meaning that the 7 staff were paid an average of €42,267 per year.
Click here for details of further wastages of money spent at Castellon airport over recent years.