Ryanair request "Priority" landing at Lanzarote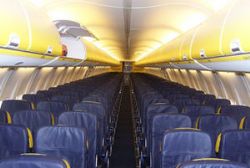 A Ryanair flight from Leeds-Bradford to Lanzarote was forced to request a "priority landing" at the Spanish airport due to being low on fuel.
The incident comes barely 4 weeks after a series of three similar events at Valencia Manises airport prompted the Ministry of Industry to investigate the airline over claims that their policy of carrying limited amounts of fuel flounts EU saftey regulations.
AENA sources reported how the captain of the Ryanair flight requested priority boarding when asked by the control tower at Lanzarote airport to enter into a manoevre to circle the airport and await further instructions to land due to adverse weather conditions.
The Ryanair flight asked for permission to land ahead of the two other flights waiting in the stack due to having insufficient fuel to wait any longer.
A spokesman for the airline denied that it was an "emergency landing" and was simply a request to land without further delays.
Ryanair's policy of carrying just enough fuel for the scheduled journey with little margin incase of unplanned diversions to other airports has often attracted criticism from industry insiders.
If the Ministry investigation finds that Ryanair have acted against aviation saftey regulations the airline could be fined up to 4.5 million Euros and lose their licence to operate within Spain for up to 3 years .