Rajoy plays waiting game on bailout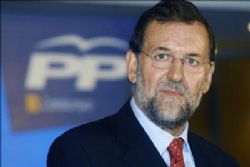 Mariano Rajoy showed no rush on Thursday to seek a bailout that would come with bitter conditions for his recession-gripped country under a new ECB plan to bring relief to struggling euro zone members.
Rajoy and German Chancellor Angela Merkel met in Madrid while in Frankfurt ECB head Mario Draghi announced a new bond-buying scheme that would come with "strict and effective" conditions for countries that take it.
Rajoy and Merkel told a news conference they had not discussed the conditions Spain would have to meet to qualify for international aid to bring down its borrowing costs.
Cash-strapped Spanish regions are clamoring for billions of euros to meet debt payments, stretching central government finances to the limit. A banking sector reform and the economic contraction have also stressed Spain's funding position.
The Spanish leader has said repeatedly he is open to seeking a sovereign bailout for Spain but first wants to analyze the terms set by the ECB and the euro zone.
"When there is news I will tell you. I haven't had time to read Draghi's speech yet," Rajoy said when asked whether further aid for Spain had been discussed at the meeting.
He said he had not committed to any new reforms for Spain and had no intention of changing the pension system, which is an area where he has not cut spending.
A Spanish government source said the position of the government was unchanged after Merkel and Rajoy met.
"Our decision will depend on the conditions, on the detailed mechanism and on the need for the Spanish economy. Right now we don't see any emergency. We've sold three bonds this morning, all went well," said the source.
Before the Rajoy-Merkel meeting Spain's borrowing costs dropped sharply at an auction of €3.5 billion in bonds, as investors anticipated Draghi's announcement.
The source also said the Spanish government wanted to see first how the market would react to the ECB plan.
Draghi said countries that want to sign up for the bond-buying program must agree to conditions in a program with the European rescue fund. The central bank chief also said the involvement of the International Monetary Fund would be sought in designing conditionality.
His securing ECB support for the program, despite Bundesbank opposition, pushed down the yield on Spain's benchmark 10-year bond, which measures the perceived risk of investing in the country. It fell to 6.1%, its lowest level in 4 months.
RAJOY RESISTS MORE REFORMS
Unlimited ECB bond-buying would go a long way to shoring up the euro zone but it can only take effect if a country like Spain first seeks help from the rescue fund and accepts the strings that will be attached.
The Spanish government source declined to say how long Rajoy would consider the terms of a bailout, but noted two important dates in late September, including the results of an audit of Spain's troubled banks and Moody's credit rating agency's next review of Spanish debt.
Rajoy's People's Party also faces challenging two challenging regional elections in October.
"They are taking small steps. They don't want to take big decisions before elections ... They don't want to scare voters. There is a bit of that old saying about making declarations in order to avoid policies," said Jose M. de Areilza, law professor at Spain's ESADE business and law school.
With unemployment at 25% Rajoy is resisting more austerity and reforms than he has already pledged to the EU to meet deficit reduction targets, and to comply with terms of a bailout of up to €100 billion for the country's reeling banks.
Germany and Brussels are expected to push for conditions such as pension and tax reforms and a full monitoring program of Spanish government finances with involvement of the IMF.
Rajoy has already passed budget cuts of some €100 billion through the end of 2014, pushed through labor market reforms and raised taxes.
Merkel said Spain was on the right path but must continue to do its homework.
"In the end, all other measures, such as those that serve monetary stability, which is what we're talking about with reference to the ECB, cannot replace political actions. Therefore it is very important that we do our homework as politicians and do it so that markets regain confidence," she said.
Rajoy met last week with French President Francois Hollande, who nudged him to seek a full sovereign bailout soon.
But Rajoy told the French leader he did not want to sign a new set of conditions for a bailout, preferring to have an addendum on the existing Memorandum of Understanding for the banks' rescue which it negotiated in June.
As austerity measures have cut into Spain's schools and hospitals, anti-German sentiment has grown among Spaniards.
Around 500 people gathered to protest in central Madrid after the German Chancellor had left the capital, waving banners denigrating the troika and saying, "Merkel go home" and "No to a German Europe".
"The German financial mafia is taking Spaniards hostage...Merkel belongs to a political class that serves German oligarchies," said Eduardo Gutierrez, 58, an economist and advisor to a trade union, who took part in the protest.