Spain to discuss ECB aid next week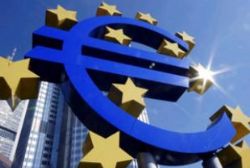 Spain said it would discuss conditions attached to the European Central Bank's new bond-buying programme with euro zone finance ministers next week, but insisted it was still in no hurry to seek international aid.
As Spain's 10-year debt yields fell below 6 percent for the first time since May, Deputy PM Soraya Saenz de Santamaria stuck to the government line of recent weeks, saying Madrid would look carefully at the ECB offer before making any move.
ECB head Mario Draghi announced the scheme - intended to bring down borrowing costs for struggling euro zone economies - in Frankfurt on Thursday.
He said it would come with "strict and effective" conditions for countries that take it, while in Madrid PM Mariano Rajoy showed no rush to sign up.
Many analysts believe that Spain could drag its heels on making an aid request under the ECB programme if the country's borrowing costs keep falling.
The premium investors demand to hold Spanish debt rather than German benchmark dropped to 423 basis points from a high of around 646 basis points in July.
"I believe that matters which are so relevant for the general interest and the future of the Spanish people should be analysed calmly and carefully. These decisions can't be taken overnight," Saenz de Santamaria told a news conference after the weekly cabinet meeting.
She said questions over a possible programme of purchases of Spanish debt would be discussed during a meeting of euro zone and EU finance ministers in Cyprus on September 14 and 15.
"I think that it is important to respect these proceedings, which will also give us more certainty about what we are talking about," she said.
A Spanish government source told Reuters on Thursday that Madrid wanted to gauge the full effect of the ECB plan on its interest rates before deciding whether to make a request.
But the country is also facing a big refinancing hump at the end of October when €27.5 billion of maturing debt is due, while rating agency Moody's next review of Spanish debt is expected by the end of September.
Recession, cash-strapped regions and costly reforms to a banking sector already propped up with the promise of up to €100 billion in European aid have already stretched Spain finances to the limit.