Ryanair Madrid Flight Depressurisation Emergency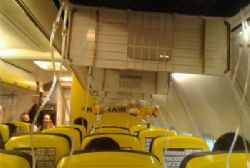 A Ryanair flight, FR2011 from Madrid to the Canary Islands, carrying 160 passengers and crew depresssurised soon after takeoff, frightening those onboard and forcing it to return to Madrid-Barajas airport where it made an emergency landing.
As part of emergency procedures, pilots deployed oxygen masks and executed a descent to a safe altitude which stabalised cabin pressure with the air pressure outside.
Cabin pressure is essential for high altitude passenger aircraft due to the low pressure and lack of oxygen outside.
Miguel Angel Cayuela, a passenger onboard the flight told the online edition of El Mundo, "My wife and another women were bleeding from their ears!"
"The cabin crew seemed confused, and when we began the descent we could feel the changes in cabin pressure. Some of us had ear pain, and my wife started to bleed."
12 passengers and four crew members were treated by medical services on the ground, suffering from ear pain and anxiety attacks as a result of their ordeal.
An AENA spokesman said "These are typical problems in a situation of depressurisation" but declared "it is nothing serious".
Several passengers onboard tweeted about their experience, most notably a tweet saying "I just had the biggest scare of my life....I recommend that you never fly with Ryanair. Masks in the middle of the flight!"
Several other passengers recorded videos of the incident and uploaded them to YouTube and other online video networks.
This is the latest in a string of incidents which have hit the airline in Spain. The budget Irish carrier is already under investigation over low fuel emergency landings in Valencia which could see them lose their operator licences across the peninsula.
Speculation is mounting that Ryanair's unrelenting drive to cut costs may be going too deep and risking the safety of passengers as a result. Despite this, the airline carried almost 9 million passengers in August 2012, up from just over 8 million in August 2011.
In a statement, Ryanair said engineers were inspecting and making necessary repairs to the plane. "A replacement plane has been assigned so affected passengers can fly to Gran Canaria". An apology was given, but only for the delay.