Small Town Sexy Politician Goes Viral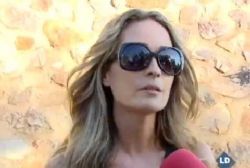 A Spanish politician has been left red faced after a sex tape she made of herself on her mobile phone was released on the internet and quickly went viral.
Olvido Hormigos, a sexy municipal councilor and primary school teacher in the small town of Los Yebenes, central Spain, videoed herself masturbating naked and claimed the video was for her husband.
Her husband never received the video.
As the story unfolds, it has emerged the socialist councilor has an intimate connection with a local footballer. The speculation is that the video was made and sent to him instead, but was discovered and released on the internet by his girlfriend.
Hormigos has since resigned her position in the council over the incident in which she has received several insults and jeers from fellow villagers.
Whilst this story is not in keeping with the theme of Tumbit.com, we did find it interesting as it highlights how Spain is hitting the news globally for reasons other than the doom and gloom in the economy.
In August 2012, elderly local painter Cecilia Gimenez shot to stardom after trying to restore an old painting in the Sanctuary of Mercy Church near Zaragoza. "Ecce Homo" or "Behold The Man" is a Jesus Christ fresco by Elias Garcia Martinez and more than 100 years old.
Needless to say, the restoration was a disaster and the end result resembled nothing like the original was supposed to look.

Since then, the botched restoration has firmly put the church on the world map with tourists, visitors and media agencies from around the world. A popular Spanish TV presenter summed up the affair saying "Cecilia Gimenez is more famous now than the painting ever was or would be!"