Catalonia Unveils Barcelona World Mega Resort Project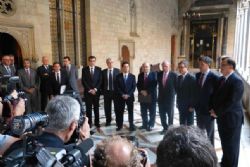 The debt ridden region of Catalonia has unveiled plans for a mega resort called "Barcelona World" which will cost somewhere in the region of €5 BILLION to construct.
News of the mega resort comes after it was revealed yesterday that the regional capital Barcelona is set to lose it's battle with Madrid to attract US firm Las Vegas Sands to build a mega casino, nicknamed Eurovegas.
Barcelona World plans to boast more than 20,000 hotel rooms, shopping centres, a theatre, convention centre and offices in addition to Casinos which will no doubt spook Las Vegas Sands.
As yet, nothing has been signed for Barcelona World and no finance is in place, however it is hoped that today's unveiling will attract interest from developers and financiers for the mega project which is backed by the Catalonia government, La Caixa bank, and the Brazil-based real estate developer Veremonte, whose main shareholder is Spanish billionaire Enrique Banuelos.
The timing of the news will no doubt be seen as a "sour grapes" move by the Catalonian government. It is also possible that Barcelona World could be used as a bargaining chip to prevent powers shifting from Catalonia to central government following Catalonia's bailout request last month.
Only time will tell, however the rhetoric from Catalonia is that "the speed of execution of this project is greater than any other that could be on the table, not only in Catalonia but in the whole of Spain" said Catalonia's regional and sustainability minister, Lluis Recoder – Hinting Eurovegas would be undermined.