Funds dip their toes into Spanish debt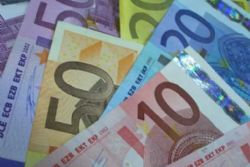 Fund managers searching for better returns for investors have turned to what some may view as a risky bet: Spanish debt.
With U.S. Treasuries yielding close to nothing, portfolio managers are inching into Spanish government bonds, which are typically yielding 3 - 6%, to provide better returns for investors.
BlackRock, Federated Investors, Prudential Investments and Wells Fargo Advantage Funds have begun investing or increasing their investments in Spanish government bonds over the past few months.
Fund managers at the firms say they are hopeful that the EU will survive its current woes and believe that the ECB bond-buying program makes that even more likely.
What's more, as it becomes increasingly difficult to find yields in fixed income markets, the risky bet on countries like Spain and Italy is more compelling as a way to generate returns.
Despite Spain's ongoing challenges with high unemployment and slow growth, managers believe that the ECB's bond buying program will bode well for Spain, as well as all of the EU. On Thursday, the ECB agreed to launch a new, and potentially unlimited bond buying program, to reduce euro zone countries' borrowing costs.
"I thought (the move) was a very big deal," said Rick Rieder, chief investment officer for BlackRock Inc's fundamental fixed income group, in an interview with Reuters after the announcement on Thursday.
SPAIN'S TROUBLES
Spain faces a host of challenges. Unemployment stands at 24.6% and its economy contracted at a rate of 1.30% in Q2 from the same period in 2011. Spain has also been reluctant to participate in the EU's austerity measures.
But managers who are holding or adding to their Spanish government bond positions say they are being rewarded for those risks - and they would pull out if that changes.
"It's not a buy and hold investment," said Ihab Salib, the portfolio manager of the Federated International Bond Fund , which is neutral to its benchmark's holdings of Spanish debt at four percent of its portfolio, slightly up from the spring. "You have to be active, because as we have seen this year yields in Spanish bonds went down 200 basis points, and then up 300, and then down again," he said.
As of 10:00 a.m EST Friday, yields on 2-year Spanish bonds were 3.009, down 0.036% from Thursday's close, while 10-year Spanish bonds were at 5.77, down 0.324%.
But even that - lower yields are an indication that bond buyers believe the risks are not as big as they were even a few days ago - has not persuaded some fund managers to buy.
"By every indication, Spain's problems are getting worse, not better," said Bonnie Baha, head of global developed credit at DoubleLine Capital, a $40 billion manager which does not invest in any Spanish debt. "A market calming platitude doesn't mean anything has fundamentally changed."
Some managers are also concerned because the ECB program comes with strings attached for countries that participate. "It suggests that the ECB would stop buying Spanish bonds if their conditions were not met," said Mark Nash, a senior portfolio manager in London for Invesco Ltd, which does not own any Spanish bonds.
For many managers, a bet on Spain's debt is also a bet that the EU will stay together.
Tony Norris, co-manager of the Wells Fargo Advantage International Bond Fund, which has 4% of its $1.7 billion in assets in Spanish debt, up from zero at the beginning of the year, is one of those managers. If the EU continues on a path that assures against a breakup, Norris said he would slowly increase the fund's exposure to Spain.
The fund is up 3.74% this year, slightly above its benchmark, according to Morningstar Inc.
Similarly, BlackRock began investing in Spanish debt this summer after the EU Summit in June gave some comfort that the EU would not break up, Rieder said. But like its peers, BlackRock is being cautious, opting to invest in bonds with one- or two- year maturities, he said.
"We could potentially go to 5 (years) if valuations were attractive and if we were more confident there would be more value further out the curve," Rieder said.
Robert Tipp, the manager of the Prudential Global Total Return Fund, has almost doubled his allocation to Spanish debt this year. The fund had an average exposure to Spanish debt of about 3% this year through August, according to Morningstar. It now has 5%.
So far this year, the fund is up 9%, compared to its benchmark, the Barclays U.S. Aggregate Bond TR USD Index, which is up 3.49%, according to Morningstar.