Ryanair Flight To Murcia Forced To Make Emergency Landing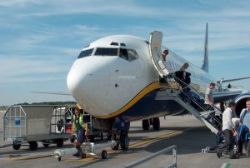 Another Ryanair flight was forced to make an emergency landing in London last night whilst en route to Murcia in Spain.
Flight FR2322, Leeds UK to Murcia San Javier developed technical problems and subsequently diverted to London Stansted where it landed without further incident according to the online Spanish newspaper, La Verdad.
No passengers were injured in the incident, however the flight which should have taken little more than 3 hours took more than 8 hours, equivalent to a flight from London Heathrow to New York.
The extraordinary travel time was the result of the replacement aircraft having to fly via Bristol so as not to interfere with air traffic control.
To add insult to injury, the flight was unable to land at San Javier airport as the arrival time was well beyond the 22.30 closing time of the airport. Instead, the flight landed at El Altet, Alicante airport where passengers were bused to Murcia.
This incident is yet another blow to the Irish airline who in recent weeks have encountered numerous technical problems along with emergency landings and fuel shortage issues during flight.
Ryanair are already under threat of losing their operator licences and this latest incident will no doubt compound the problem further.
Were you a passenger on Ryanair flight FR2322 on Friday, 7th September 2012 ? If so, Tumbit.com would love to hear from you! Please CONTACT US and tell us about your experience.