Madrid and Barcelona gear up for rival casinos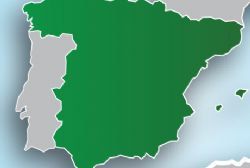 Madrid and Barcelona are gearing up to build competing hotel and casino complexes after Spain's capital won the race to host a multi-billion-dollar project being developed by U.S. firm Las Vegas Sands .
The 'Eurovegas' project drew strong interest from cash-strapped administrations in both cities that are battling massive unemployment and shrinking revenues as the economy slides into its 2nd recession in 3 years.
Las Vegas Sands said late on Friday it had chosen Madrid for the complex, though the development depended on the euro zone debt crisis - which has Spain at its heart - being resolved.
It said the size and location of the project had yet to be decided, and it would assess financing options from capital markets.
On Saturday, newspapers suggested Las Vegas Sands Chairman Sheldon Adelson planned a 12-hotel, 6-casino complex south of capital.
Earlier media reports had pegged the project as worth up to €17 billion euros, due for completion around 2025 and potentially creating more than 200,000 jobs in a country where 25% are jobless.
Following earlier indications it had lost the bidding for Eurovegas, the heavily-indebted Catalonia region that has Barcelona as its capital approved on Friday a rival €4.8 billion hotel, mall and casino development.
The regional government said it aimed to tap into Spain's tourism sector - one of the ailing economy's few success stories - and would run 'Barcelona World' in conjunction with La Caixa bank.
Mindful of the potential jobs bonanza, both cities made hard-fought bids for the Eurovegas project, shrugging off a U.S. probe into whether Las Vegas Sands broke bribery laws through its dealings in mainland China.
Adelson, whose company draws most of its revenue from Macau - the gambling capital of Asia and the only area of China where casinos are legal - has become an increasingly prominent political figure in the U.S. over the past year as a large financial supporter of the Republican party.