Banco Popular to announce BMN takeover this week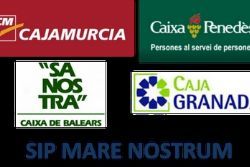 Cinco Dias have reported how Banco Popular, Spain's fifth largest bank, is expected to announce their intention to takeover Banco Mare Nostrum (BMN)within the next few days.
The announcement will be made after Oliver Wyman Consultants is due to disclose the capital requirements of the Spanish banking sector by Sept. 15, the paper adds.
Last week, Banco Popular confirmed industry speculation that it was considering a possible takeover of its smaller competotor, BMN.
BMN was created in 2010 following the EU Bank Stress testing, and is a merger of 4 lenders - Cajamurcia; Caixa Penedès; CajaGRANADA and "Sa Nostra" - and is operational mainly around Catalonia, Andalucia, Murcia and the Balearics.
According to a number of financial sources, Spanish Finance Minister Luis de Guindos has also been pushing recently for new mergers among Spanish lenders to create stronger and more solvent financial entities and therefore reduce the amount of the European Union aid for Spanish banks, the newspaper reports.