Rajoy considering ECB bond programme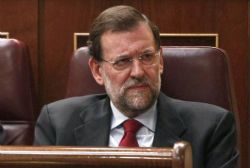 Spain is considering seeking help from the ECB's bond-buying programme but is not planning a full sovereign bailout, PM Mariano Rajoy was quoted as saying on Wednesday in Finnish newspapers.
He also said he had no objection to the International Monetary Fund monitoring Spanish compliance with the conditions for any assistance.
"The IMF is already monitoring our economy," Helsingin Sanomat quoted Rajoy as saying in an interview during a visit to Madrid by Finnish PM Jyrki Katainen on Tuesday.
Spain, which has already secured European rescue funds of up to €100 billion for its troubled banks, is also struggling with its fiscal deficit and pressure from credit rating agencies.
"In addition to growth, the only option I am considering is using the central bank's announced mechanism," Rajoy said, according to Helsingin Sanomat.
"It is completely ruled out that we would ask for a bailout for the whole country," he told business daily Kauppalehti.
His comments indicated Spain may apply for a precautionary assistance programme under which the euro zone's rescue funds could buy Spanish bonds at issue without the country being taken off the credit markets, rather than the kind of full sovereign bailout granted to Greece, Portugal and Ireland.
The conditions on a precautionary programme would be lighter, and the cost to the rescue funds of supporting the euro zone's number four economy would be lower.
Rajoy repeated that his government would carefully study the strings attached to the ECB's bond programme, but added he would not be told what to do with the budget.
"I am prepared to decrease the deficit. But others cannot decide how it will be reduced," he said.