Eurovegas 'no threat' to Paramount Murcia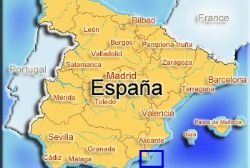 Over recent weeks the Paramount Pictures theme park in Murcia has fallen under the shadow of the prospect of the so-called 'Euroveagas' project being built in Madrid, and latterly Catalonia's answer to losing the award of the project - 'Barcelonaworld'.
However, news of a further two world-class resorts opening in Spain does not seem to be worrying Pedro Alberto Cruz, Murcia's Minister for Culture and Tourism. The Minister does not see the potential threat of competetion and has even commented that the two new entertainment and leisure complexes would "complement" Paramount Murcia.
The promoter and developer of the park - Proyectos Emblemáticos Murcianos SA (Premursa) - is expected to begin work on the site in November following approval of the plan ammendments by Alhama de Murcia town hall, and meetings in the USA to secure further investment.
Cruz maintained that completion of the park will allow Murcia to compete with other Spanish regions to attract significant volumes of foreign visitors and generate wealth for the local economies.