Spain announces €3 bln placement for regions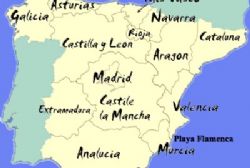 Spain's Treasury said on Thursday it will issue €3 billion through a private placement with Spanish banks aimed at offering struggling regions access to lower borrowing costs through its emergency liquidity fund (FLA).
The operation includes floating-rate notes and bonds due in 2015, 2016 and 2017 in a private placement for September 21 and is the first government issue to finance the FLA, set up to bail out regional authorities shut out of international debt markets.
The Treasury said it had already secured commitments from a group of Spanish banks for the placement which would contribute to the €8-billion loan brought by financial institutions for the fund.
The fund will have total fire power of €18 billion euros.
Top banks Santander, BBVA and La Caixa will contribute the lion's share of loans to the liquidity fund, sources told Reuters on Wednesday.
The national lottery - Sociedad Estatal Loterias y Apuestas del Estado SA (SELAE) - also aims to raise 6 billion euros through a syndicated loan with international banks to finance its contribution to the rescue fund.
The remaining €4 billion for the fund will come directly from the Treasury.
The regional governments are at the heart of concerns about the country's economy and their ability to tackle budget deficits could play an import role in Spain avoiding a full-blown bailout.
The regions, alongside the struggling banking system, have been hit by a real estate boom and bust which left banks burdened with billions of euros in soured property assets and regions starved of taxes from real estate transactions.
The private placement includes a floating-rate note maturing January 31, 2016, a reissue of an outstanding 3% bond due April 30, 2015, a reissue of a 3.25% bond due in April 2016 and an outstanding instrument due January 2017.