Buyers of Spanish Property drawn to fractional ownership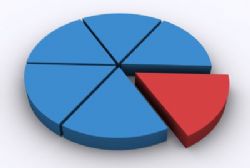 According to A Place in the Sun Magazine, the purchase of property in Spain by means of fractional ownership is becoming increasingly popular.
Fractional ownership is an attractive prospect for potential buyers who are unable to raise the required funds to purchase their dream home outright, but are able and willing to purchase a given percentage of property. This makes the scheme particularly attractive for those who wish to purchase a holiday home in Spain.
APITS quoted Nick Stuart - Director of Spanish Hot Properties 'Spanish Ownershare' division - as saying "Fractional ownership has been big in the US for decades, it now works well in Greece and Portugal, but Spain has stuttered – largely because those estate agents in the mid-late 2000s over-inflated prices and scared buyers away."
"Now, as wallets tighten, Spanish property prices fall and the pound strengthens, we have the perfect environment to resurrect fractional ownership in a transparent, inexpensive manner" he added.
The magazine explains that the average holiday home owner uses their property for just 40 days per year, meaning that fractional ownership allows the costs of ownership to be shared amongst all parties, without having a serious affect on the amount of time available for holidaymakers.
Click HERE to read more on Alternative Property Purchases In Spain.