Spain says regions will meet deficit targets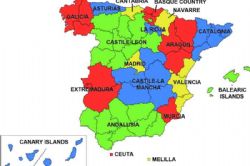 Spain's indebted regions will meet 2012 deficit targets thanks to spending cuts and tough central government oversight, the Treasury Minister said on Thursday, seeking to address concerns about some of the main culprits in the country's debt crisis.
Local governments contributed heavily to Spain's overshooting of its EU-agreed deficit targets last year and are at the heart of concerns that the country will need European aid to keep its finances in order this year and next.
The 17 autonomous regions posted a budget deficit of 0.9% of GDP in the first half, excluding accelerated transfers from the central government, compared with a 1.5% target for 2012.
"The regions are on track to meet the annual target set out for them," Treasury Minister Cristobal Montoro said at a press conference, pledging to keep on top of the regions that were struggling to trim their deficits.
Spain has passed measures including spending cuts and higher taxes to slash €65 billion from the public deficit by 2014 and Montoro said he expected to see the benefits from these moves on the regions in the second half.
Still, seven regions posted deficits above 1.0% in the first half of the year, including 2 - Murcia and Extremadura - which were above 1.5%.
Budget compliance by the regions is essential for Spain to deliver on its commitment with the EU to reach a deficit of 6.3% of GDP this year from 8.9% in 2011.