Costa del Sol cheapest holiday location in Spain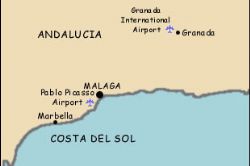 A recent survey by MyTravelMoney.co.uk has compared the average price of holiday essentials - including flights, hotel rooms, drinks, taxi and a meal for one - across a number of popular Spanish holiday destinations. While the Costa del Sol was revealed as the cheapest location the most expensive was the capital Barcelona, where hotels and eating out cost more than the rest of Spain.
The second most expensive resort was found to be the Balearic Islands, followed by the Canary Islands and the Costa Blanca.
The study also found that flying from the UK to the Canary Islands cost almost double than flights to other Spanish airports, at an average price of £275 per flight. However, hotels in the Canary Islands averaged just £389 for 7 nights, the cheapest location in the survey – compared to Barcelona, which averaged £836.
Alcoholic drinks were the most expensive in the Balearics, perhaps unsurprisingly considering the overheads of the so-called superclubs on the Islands. The average round of drinks was 13% more expensive in the Balearics than in Barcelona, and a whopping 40% more expensive than the Canary Islands.
The Costa del Sol enjoyed the joint cheapest average flights, the second cheapest hotel rooms mid-range drinks and food but the cheapest taxis in the poll.
The average cost of a taxi on the Costa Blanca was found to be double the cost of a taxi on the Costa del Sol.