Ten of thousands of Spaniards rally against austerity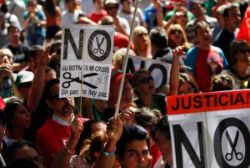 Tens of thousands of Spaniards rallied in Madrid on Saturday to protest against spending cuts and tax rises in a country reeling from high unemployment and a gruelling recession.
Teachers, nurses and social services workers thronged the capital's central Plaza Colon a day after Spain said it would present new economic reforms at the end of September likely to contain more austerity measures.
The cuts are seen as a precursor to an economic programme which Spain will have to implement in return for receiving support from euro zone rescue funds and the European Central Bank to help lower its borrowing costs.
The demonstrators, from all over Spain, chanted, sang and listened to speeches from union leaders.
Some blew whistles and waved banners reading 'Enough!' and 'They're sinking the country' to protest against the spending cuts in health, education and social services.
"There is no area of my work which has not been affected by the cuts," said Jorge, a 52-year-old doctor from Valencia who declined to give his surname.
He said his salary had shrunk around 30% because of measures.
"It's a drastic reduction in the quality of service for patients, it's terrible," he added.
Others said they feared for the future of their children in a country where almost 25% are jobess and mired in a 2nd recession in 3 years.
"Spain has gone back to the 1950s, when the Spanish had to go to Germany in search of work," said 50-year-old teacher Adelaida Liviano, who said half of her pupils had started the year without school books because of the scrapping of subsidies.
Spain announced a package of spending cuts and tax hikes worth €56 billion in July but many economists still expect the euro zone's 4th largest economy to miss its 2012 deficit target.
It has accepted a European credit line of up to €100 billion to prop up its ailing banks as it seeks to avoid a full-blown bail-out which the euro zone would struggle to afford.
However, most analysts and policymakers believe it is only a matter of time before Spain will require more international help to lower its punishing borrowing costs.
Everyday living costs like heating, phone bills, clothes and haircuts all became more expensive at the start of the month after a hike in value-added tax.
"The government is aware that is it asking for sacrifices from Spaniards, but these sacrifices are absolutely unavoidable," Economy Minister Luis de Guindos said at a European finance minister meeting in Cyprus on Saturday.
Police and city officials have a policy of not giving crowd counts for demonstrations. A Reuters witness estimated the crowds in tens of thousands.