RENFE railway strike tomorrow guarantees minimum services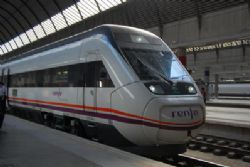 Unions representing RENFE employees have guaranteed a 75% service will be maintained ahead of tomorrow's railways strike, in compliance with minimum service regulations set out the Ministry of Development.
The Unions have called the 24-hour strike in protest against the introduction of competition in rail transport from next year, with RENFE being split into 4 seperate companies. Critics have also argued that the move paves the way for privatisation of the sector.
An average of a 50% service will be guaranteed on main lines, although this percentage rises to 75% for commuter services around the capital.
AVE trains and long distance train services will maintain 73%, which regional services will guarantee a 65% minimum service.
The Minimum services were originally laid down by the Ministry of Development to "reconcile the interest of the public and their transport needs, with the right of employees to strike."
According torecent data provided by the Ministry, at present the railways currently cost the treasury €2.5 Billion every year, with the combination of RENFE, AVE and ADIF making annual losses of €447 Million, and holding a total combined debt of €20.7 Billion.
The railways currently employ 29'000 staff.