Madrid President Shock Resignation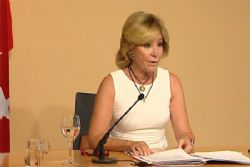 Esperanza Aguirre, President of "La Comunidad de Madrid" has today announced her retirement and ultimate departure from forefront politics in a shock statement.
In a packed news conference earlier today, the controversial and often blundering politician, in remission for cancer, cited reasons of spending more time with her family and husband for her decision.
Aguirre, often compared to Margaret Thatcher, was instrumental in landing the " Eurovegas " project for Madrid and tipped to become the PP Conservative Party leader at some point.
"My battle with the disease influenced my decision to leave politics" she said. Fighting back tears, she added her proudest moment was introducing bilingual education.
The news will no doubt rattle prime minster Mariano Rajoy and his fragile stance in Spain as the country sinks further and further into a second recession and pushing the country towards a full blown bailout.