Portuguese Cheese Listeria Health Alert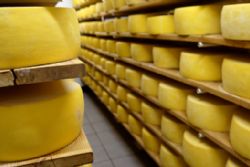 Spanish Food Safety Agency (AESAN) has issued a warning to the public after the discovery of Listeria Monocytogenes in several fresh cheese products from Portugal.
The bacteria is the cause of Listeriosis, a particularly nasty bug which primarily affects pregnant women, infants and adults with weakened immune systems.
AESAN issued the alert after receiving information via SCIRI, the rapid action information network, following details published by Basque Country authorities.
According to the published information and online Spanish newspaper La Verdad, there are three types of affected Portuguese cheese:
Fresh cheese "El sabor de la casa" 400g vacuum packed, batch/lotes: 12267 and 12291 with a best before date of 13/10/2012 and 20/10/2012 respectively.
"Queso costeño nativo" 450g vacuum packed, batch/lotes: 12245 and 12287 with a best before date of 30/10/2012 and 20/11/2012 respectively.
"Queso fresco latino Estilo tradicional" 325g individually wrapped, batch/lotes: 12296 with a best before date of 27/10/2012
All three products have been recalled and mostly distributed to specialist Latino outlets around the country. Consumers are advised to avoid eating the products and return them to the outlets where they were originally purchased.
Listeriosis has long incubation period which the most obvious of symptoms being high fever and high risk groups can suffer more than others.
AESAN are advising anyone that has consumed the products recently and develops symptoms should contact their doctor immediately.