Ryanair Calls for EASA Directors Head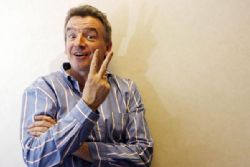 Micheal O'Leary, chairman of Ryanair has called for the Spanish Aviation Safety Agency (EASA) director Isabel Maestre to be dismissed from her post.
The controversial boss of the airline blames Maestre for causing the delay of a Ryanair flight to Tenerife on Sunday and has accused her of "damaging the image of the company".
In a letter sent to Ana Pastor, Minister for Development, O'Leary accused the EASA Director of causing an unnecessary delay of at least two hours following an emergency landing of the aircraft due to technical problems at Madrid-Barajas.
His letter also makes claims that records were "falsified to wrongly accuse Ryanair of violating Spanish laws and regulations". He also claims that these falsified records ensured that Ryanair became subject to more than 1,200 security and safety incidents in the last 6 months.
He concludes his letter by asking for an "urgent response" to his concerns which would coincide with a meeting by the Department of Public Works and Irish transport authorities scheduled for Tuesday to discuss the airline.
Spain is pushing changes to European legislation over air safety regulations as foreign airlines are subject to the laws of the land where the airline is based in accordance with European air safety regulations, but not local laws an airline is flying into.
Incidents involving Ryanair are currently investigated by the Irish Aviation Safety Agency, even though they may occur in Spain or another European country. In some cases, this procedure is deemed unconstitutional to Spanish law.
This year, Ryanair has been plagued by a number of emergency landings across Europe due to technical faults and in flight emergencies. In August, the Irish airline had to make three emergency landings in Valencia due to low fuel issues which are under investigation by the Spanish Aviation Authority in conjunction with Irish officials. That incident alone could see Ryanair lose its operator licences in Spain if it is found they breached Irish and European aviation guidelines.
O'Leary's comments in his letter and demands for urgent answers to his questions will no doubt fly in the face of consumer groups who have criticised the airline for not being easily contactable and forthcoming with answers to concerns or queries by passengers.