Murcia on Yellow Alert for Snow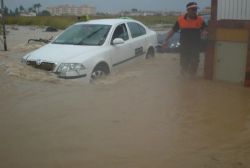 AMET, the national Meteorological Agency for Spain has issued a YELLOW alert warning for snow and severe storms in the region.
Whilst snow fall will mainly be limited to higher altitude areas, heavy rainfall, as much as 20 litres per square metre per hour, and gusty wind will cause havoc across lower lying areas today.
The adverse weather will come as a shock to the region who have experienced record breaking temperatures and virtually no rainfall this year.
The yellow alert will remain in place for the remainder of the day until around mid-night.
Weather conditions for tomorrow are expected to be normal tomorrow with AMET saying yellow alert will be lifted and revert back to green.