Official Investigation into Ryanair Launched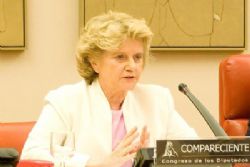 Soledad Becerril, the Spanish state Ombudswoman, has requested that the Spanish Aviation Safety Agency (AESA) open an investigation into Ryanair.
In a letter to AESA, Soledad Becerril , specifically asked the air safety agency to look into a string of recent incidents involving the Irish airline believing they could well be in breach of aviation safety regulations and passenger rights.
Despite more than 1,200 incidents involving Ryanair in the first SIX MONTHS of 2012 and more than €2.3 million in fines since 2007, incidents involving the airline have continued through July and August and have not led to any significant changes to their controversial policies, she continued in her letter.
Underlining an investigation into Ryanair by AESA in July, the "Defensora del Pueblo" has requested a copy of the report.
She also wants information about what steps have been taken by the airline or anything in the pipeline and in the case of malpractice will be referring the matter to the Irish Government who are responsible for licensing the airline to operate.
Micheal O'Leary yesterday demanded the dismissal of the head of AESA citing reasons of falsification of documents and delaying a flight to Tenerife which had to make an emergency landing in Madrid. He claimed that the number of incidents involving his airline were no different to other airlines operating in Spanish airspace.
Becerril has requested comparisons on complaints made against other airlines and those against Ryanair.
Read more Ryanair news here .