Catalan Independence referendum possibile "In 4 years"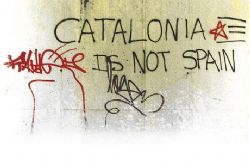 In a further show of beligerence to the Spanish government, a top Catalan official on Friday warned that the region's parliament could set measures in motion that would lead to a unilateral separatist drive for Catalonia.
In a radio interview, Catalonia spokesman Francesc Homs said that a referendum within 4 years "was a possibility," and that independence could also be "obtained by way of a parliamentary vote after an election."
Homs' announcement comes on the back of a number of advisories issued by the Catalan nationalist CiU bloc and its leader, regional premier Artur Mas, who says that a process leading to eventual independence for the region is "unstoppable." It also comes one day after a tense meeting was held between Mariano Rajoy and Mas, who has been demanding a new financing plan for his region.
While the PM told Mas on Thursday that there was "no margin for negotiation of a fiscal pact," Deputy PM Soraya Saénz de Santamaría reiterated the Popular Party (PP) leader's pledge that the central government will review the structure of regional financing this term.
"The PM made it clear that he wasn't going to accept any type of proposals that are not backed by the Constitution," she said following Friday's Cabinet meeting.
Mas's unsuccessful attempt to obtain a fiscal pact with Madrid has led to speculation that the CiU government will call early elections for November 25. Homs said the government has not yet made that decision.
For her part, Saénz de Santamaría didn't give any details as to what changes could be made to the regional financing law (LOFCA), but said that a complete analysis would be done "to see which areas we can correct."
The Catalan government has long complained that LOFCA is an unfair law because Catalonia's tax base provides more money to Spain than any other region, yet it gets less back in return.
Referring to Homs' announcement concerning independence, Saénz de Santamaría warned that such a move could only be done through "a radical" change to the Constitution along with a referendum or plebiscite in which all Spaniards can vote.