ANFAC Propose Production Plan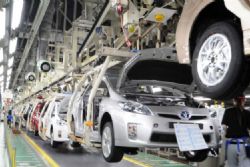 In response to falling vehicle production, the Spanish Association of Car and Truck Manufacturers (ANFAC) have devised a plan to increase production to more than 3 million vehicles.
Vehicle production in Spain is heavily integrated into the Spanish economy employing thousands of people in several sectors across the industry in both manufacturing and supply chains.
Between January and June 2012, the combined production of all 15 plants in Spain amounted to almost 1.1 million units, down over 18% compared to the same period of 2011.
Production forecasts by ANFAC have repeatedly been downgraded, which currently predicts just over 2.9 million vehicles for 2012. However, this figure is likely to be adjusted down again as the Eurozone crisis worsens.
Under the plan, ANFAC aims to redress the imbalance of competiveness across vehicle manufacturing plants by targeting cost restraints, specifically energy and logistics, which under proposed energy reforms will further hinder the manufacturing sectors within Spain.
Manufacturing and exports have been internationally identified and accepted as the road map to recovery.
The hope is that the Spanish government will adopt their plan allowing the industry to attract new model contracts from international vehicle companies.
Secondary industry suppliers would also benefit from the plan, boosting small to medium enterprise and ultimately tax receipts through employment and vat.
The head of the Ministry of Industry, Energy and Tourism Jose Manuel Soria, has repeatedly stated his department will develop measures to increase the share of industry in GDP. A statement ANFAC believes will encourage politicians and government to act on their behalf.
Spain's vehicle manufacturing markets are predominantly European countries. Out of the five major EU markets – Germany, France, Italy, UK and Spain, the UK is the only market with growth.
Overall exports of vehicles produced in Spain fell by 21% (21% in cars and 23% commercial) compared to 2011.
Surprisingly, SUV production has increased by 53% which represents a significant shift in consumer habits as the vehicle types offer greater value for money.