Pensions Exceed €7 Billion up 4.4%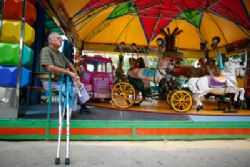 The pension bill in Spain has risen 4% compared to 2011 costing the state €7.444 billion according to data released by the Ministry of Employment and Social Security.
Of this amount, the monthly payroll for pensions reached more than €5 billion alone with the rest being allocated to widows pensions, permanent disability, orphans and family allowances.
Average pensions in September rose 3.4% to €950.16 per month compared to the same period of 2011.
The average pension benefit, made up of different types of pension (retirement, permanent disability, widowhood, orphanhood and family allowances), stood at €832.46 per month, representing an annual increase 3.1% at the beginning of September 2012.
Specifically, the average pension for widows in September was €602.67 per month, up 2.6%, while the permanent disability reached an average amount of €889.03 per month, an increase of 2.1 %.
Also, the average pension amounted to €366.21 per orphan, 1.8% more than in September 2011, while the family benefit rose to €486.97 per month. A rise of 2 9%.
In September 2012, the number of contributory Social Security payments totaled 8,942,282, representing an increase of 1.3% over the same month last year. Of this 5,346,074 were of retirement pensions, with a rise of 1.5% compared to September 2011, while pensions for widows 2,324,748 (+0.5%), 943,297 permanent disability (+0, 3%), 289,753 orphans (+5.7%) and 38,410 in favor of relatives (+1%).
Basque Country with the highest average pension
By region, SEVEN exceeded the national average pension, set at €832.46 per month.
Basque Country, Asturias and Madrid recorded higher average pensions, with €1028.53, €987.75 and €985.16 per month, respectively.
They were followed by Navarra (€945.25), Ceuta (€873.08), Aragon (€867.26), Cantabria (€866.62), Catalonia (€860.22), Castilla y Leσn (€811.28), Melilla (€802.87), La Rioja (€797.60), Canary Islands (€780.01), Castilla-La Mancha (€777.28), Valencia (€764.92), Baleares (€760.97) and Andalusia (€759.05).
Final information in the data shows the less substantial pensions, Murcia, with an average pension of €733.07 per month, Extremadura with €705.72, and Galicia with €698.63 per month.