£ at 3-week high versus €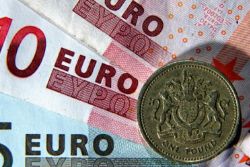 GB £ rose to a 3-week high against the euro on Thursday morning, helped by news Britain's economy contracted less than expected in Q2 and with investors cautious ahead of Spain's budget.
The euro fell 0.5% to 79.23 pence, its weakest since Sept. 6 and nearing the 55-day moving average at 79.09 pence and the Sept. 5 low of 78.87 pence.
Traders said £ was also lifted by talk of farm subsidy payments expected later in the week, which the EU makes to Britain once a year.
The subsidy could see around €3 billion of flows into Britain.
Data showed the economy shrunk 0.4% in the 3 months to June, up from the previous reading of 0.5%.
While this helped the pound, the market was focused on uncertainty over Spain, its budget, and whether the government may seek a bailout, which could dent investor appetite for taking on risk and knock the pound against the dollar.
"Another revision higher in GDP was sterling positive. But it was only a slight revision and, at the end of the day, it is still a negative figure," said Lee McDarby, head of dealing for corporate and institutional treasury at Investec.
Recent data has suggested the economy recovered in the third quarter, which has helped the pound gain, although there was still a risk the Bank of England may ease monetary policy later this year. Other data on Thursday revealed a record high current account deficit. Bank of England policymaker Paul Fisher was quoted as forecasting "a very strong GDP number" in Q3, in an interview with the Sun newspaper.
SPAIN WORRIES
Buoyed by its gains against €, £ rose 0.25% against the dollar to $1.6204, pulling away from a 2-week low of $1.6137 reached on Wednesday. However, it stayed well below last week's 13-month peak of $1.6310.
"If sterling breaks through $1.63 there is definitely potential for more upside, but it is more likely to test support at $1.6090," Investec's McDarby said.
Investors awaited Spain's budget on Thursday. A credible budget along with comprehensive structural reforms could build the foundation for meeting conditions for a Spanish aid package, analysts said.
However, Spain has been reluctant to request a bailout which it must do to trigger intervention by the ECB to lower its borrowing costs.
This has weighed on the euro and riskier currencies, including the pound, while markets were spooked by violent protests in the country this week.
"If what happens in Spain does calm down there is no reason why sterling could not trade above $1.63 ... There is a chance that Spain in their budget include details around an EU economic reform plan," said Kathleen Brooks, research director at FOREX.com.
SEB analysts said sterling should be sold against the dollar given the British economy was "showing few signs of recovering" and the likelihood of more BoE quantitative easing. They advised buying a $1.58 4-month sterling/dollar put - a bet on the pound falling.
"Current rate differential in two-year swap yields between the 2 countries (Britain and the USA) would normally indicate that sterling/dollar should trade closer to $1.50 rather than above $1.60," they said in a note to clients.