Spain To Announce 2013 Budget Today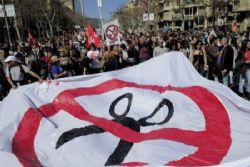 The 2013 national budget for Spain will be announced today amid the backdrop of violent clashes with police by anti-austerity protestors.
Spain's conservative government is expected to reveal even deeper cuts and austerity measures as it battles to regain control of the public purse and bring the country out of a double dip recession.
The "Partido Popular" government headed by Mariano Rajoy, which came to power in November 2011, has broken all but one pre-election promise by introducing tax rises, deep spending cuts and forcing many civil servants into the dole ques. Currently pensions are the only pre-election promise which has been upheld, however it is widely expected to broken over the coming months.
Of the new cuts expected to be announced, it is believed they will mainly affect Health, Education, Policing and Fire Services. Whilst it is understood that there will not be any compulsory redundancies or salary reductions, resources will be slashed and employment in these sectors will be severely restricted.
A new ceiling for employment will be set at no more than 10% with flexibility to reduce this figure should it be necessary. Public servants who retire or leave the employ of the state will not automatically be replaced, instead greater responsibility will be placed on colleagues to make up the short fall.
Unions are already up in arms over the prospective austerity suggesting that the move will result in fewer Police, Teachers, Fire fighters and medical staff and accusing the conservatives of attacking public services instead of the banking and financial sectors.