AENA Checks Corvera Flight Corridor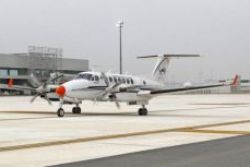 Spanish Airport Authority AENA has been making test flights through the new Corvera Airport flight corridor agreed with the Air Academy based at San Javier.
The flights, yesterday and today, were arranged to test the maneuverability and general approach/departure paths including the use of the landing navigation system "ILS" (Instrument Landing System).
An AENA calibration plane began testing in April 2012. These new tests are hoped to eventually allow commercial flights into the airport.
Corvera Airport, aka - Regional Aeropuerto de Murcia, has endured several setbacks along its journey to becoming a major international port for tourists and business representatives mainly due to disputes and feuds with the military.
A recent agreement in principle with San Javier Air Academy, Sewers Air Force Base, Air personnel as well as the Ministry for Public works and AENA experts has enabled the project to move forward.
Earlier this week Tumbit.com reported how the agreed airspace would contain three tiers. The upper and lower tiers would remain under military control whereas the middle layer would be reserved for commercial aircraft. Click here to read: Corvera Airport Issues New Opening Target
Following these test flights, aircraft laboratory technicians have indicated that the flights were "satisfactory". Corvera Airport announced recently their new target opening date of April 2013.