Euro hovers above 2-week low after Spain budget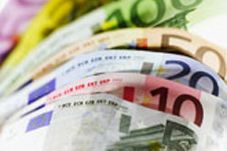 The euro held firm above a 2-week low on Friday after Spain unveiled a crisis budget that many saw as a step towards a bailout to stabilise its public finances.
The single currency looks set to end the quarter with a small gain, but is likely to stay under pressure in the coming quarter, with many pitfalls ahead, not just in Spain but also in Greece, where the whole debt saga started.
"I expect the euro to gradually decline. There's a risk of credit downgrade on Spain. The talk between Greece and the troika may get nowhere. And the euro zone economy will be fragile," said Minori Uchida, chief currency analyst at the Bank of Tokyo-Mitsubishi UFJ.
The euro stood at $1.2929, up slightly from late U.S. levels having bounced from a two-week low of $1.2828 on Thursday, with its 200-day moving average around $1.2825 serving as a substantial support.
Initial resistance for the euro is seen at $1.2960, the 38.2% retracement of its Sept. 17-27 slide.
The currency is up 2.1% on the quarter, thanks largely to hopes that Spain's borrowing costs would be brought down when the ECB starts buying Spanish debt, a programme that needs Spain's request for a bailout to be activated.
Spain also announced a timetable for economic reforms that EU Economic and Monetary Affairs Commissioner Olli Rehn says goes beyond what the European Commission required.
All this is widely seen as paving the way for eventually seeking a bailout. Madrid is talking to EU authorities about the terms of a possible aid package.
MORE HURDLES
Analysts warned there are still many hurdles ahead and said the news merely gave markets an excuse to book profits on recent bearish trades.
"I think it's positive that Spain is laying the groundwork for a bailout. But we still hear disharmony between the euro's "northern league" and the south, leaving markets still unsure how seriously they are trying to support," said Ayako Sera, senior market economist at Sumitomo Mitsui Trust Bank.
PM Mariano Mariano Rajoy is resisting market and diplomatic pressure to apply for a rescue, partly out of concern for national sovereignty but also because EU paymaster Germany insists Spain doesn't need help.
The Spanish budget goes to parliament on Saturday and debates could last weeks. Spain's 17 autonomous regions still must present budgets and find an additional 5 billion euros in adjustments to meet overall public deficit reduction goals.
"The budget represents two steps forward and one step back, which is why the euro only moved slightly higher," said Mary Nicola, a strategist at BNP Paribas.
Markets are now waiting for Moody's review of Spain's sovereign rating, due at the end of the month. On Thursday, ratings agency Egan-Jones cut Spain's sovereign rating further into junk status, citing the country's faltering banks and struggling regional governments.
The Spanish government is also due to publish its full evaluation of the banking sector on Friday.
The euro also rose on the yen, pulling up to 100.31 from a 2-week low of 99.64 plumbed on Thursday.
The greenback, however, softened against the Japanese currency, slipping to as low as 77.52, its lowest in 2 weeks, not least because of Japanese repatriation at the end of financial half year on Sept. 30.
Among the biggest gainers were commodity currencies, which have been hit hard in the past few sessions. The Australian dollar climbed as high as $1.0474, more than one full cent above a two-week trough of $1.0328 set mid-week.
Resistance is seen at $1.0476, the 50% retracement of its Sept. 14-26 fall, ahead of $1.0512 and then the Sept. 14 peak of $1.0625.
Partly helping the Aussie is renewed hope that China, Australia's single largest export market, will deliver more stimulus to stem its economic slowdown.
A Chinese central bank adviser said on Thursday that Beijing had severely underestimated this year's global economic slowdown and further cuts to interest rates or bank reserve requirements hinge on any new deterioration in the external environment.