Valencia forces Buñol to charge 'Tomatina' entry fee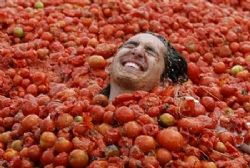 As of next year tourists may be charged to throw tomatoes at each other at Spain's famous La Tomatina festival.
The town of Buñolcin Valencia - where the streets fill with red sludge at the annual bash - is consiering charging an entry fee of €5 to limit attendance and improve safety, a town official announced yesterday.
The August festival attracts up to 50,000 revelers in minimal clothing who pelt each other with tonnes of tomatoes in Buñol, population 10,000. But local authorities would like to reduce this number by charging visitors.
Town councilor Rafael Perez denied the plan to charge visitors to throw tomatoes at one other has to do with Spain's deep economic crisis, even though the cash-strapped regional Valencia government owes Bunol €3 million.
"This idea came up for security reasons. It's a miracle we haven't had any serious accidents," Perez told Reuters.
"If it was just about money we would charge more."
Spain is at the heart of the euro zone debt crisis on concerns the government can't control its finances and those of its highly indebted regions, and public administrations have had to apply drastic austerity measures in social services such as health and education.
"This is one of the most popular festivals in Spain and we don't get any aid, it's all on us," Perez said. Buñol's total annual budget is €7.5 million.
The town councilor said private tour operators make money selling travel packages of up to €300 to take people to the festival, without paying any fees to the town.
The enormous food fight began accidentally in 1945, when a group of young men were excluded from summer celebrations and protested by throwing tomatoes from a street stall.
The protest continued illegally every year until the town council accepted it as a festival in itself in 1957, and it became famous internationally after the 1990s.
The town council will make a decision about the new fees in November, after studying safety reports.
Read more about Valenica's famous La Tomatina fiesta by clicking the link >> HERE << .