Lorca Devastated By Floods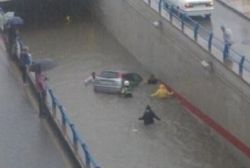 Little more than a year since the double earthquakes which destroyed much of the old town and still recovering, Lorca has again been hit with further devastation from torrential rain and flooding on Friday.
More than 244 litres of water per square metre fell in less than an hour bringing huge torrents of water destroying infrastructure, homes and agriculture.
Five people have been confirmed dead in the surrounding area and more are missing having been swept away by flash floods.
Homes are completely submerged with owners stranded on the roofs. Emergency helicopters have been drafted in to help with the rescue effort.
Tumbit's Dan Brammall, who was caught up in the disaster said "You can't imagine it, homes are completely under water, cars are bobbing around and locals affected have lost pretty much everything".
"It's normally very dry here and rainfall is very minimal at the worst of times. This is completely unprecedented by any standards" he continued.
"I've spent most of the day wading around in the water up to my chest helping where I can. There is diesel in the water from nearby petrol stations and farm land, the smell of the water is disgusting and there is mud everywhere! Locals are being evacuated by the Guardia Civil and fire services."
Lorca's fort, positioned high above the city has experienced rock falls forcing the temporary and precautionary closure of the motorway tunnels which run beneath it.
The nearby town of Puerto Lumbreras has been devastated too. Infrastructure has been destroyed and major roads have collapsed where they pass over rivers.
Emergency staging points have been setup around the city with military and civil protection support being provided to local emergency services.
Most of the worst affected areas are without electricity tonight and the true scale of the devastation won't be known until Saturday morning where it is hoped the flood water will have abated enough for the cleanup operation to begin.
Background on 2011 Lorca earthquake by clicking the link >> HERE << .